Woven Elastic Tapes: Elastic Tapes With Excellent Durability And Stretchability
Posted by Admin on December, 02, 2020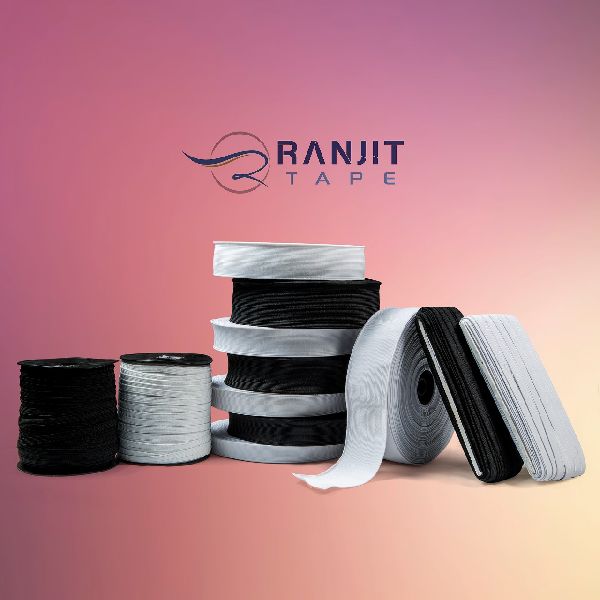 Woven elastic tapes are the excellent quality elastic made using webbing technique for assuring high durability. These elastic tapes promote their use in the higher end applications. These tapes are produced in different widths, and different raw materials. Generally, woven elastic tapes are created from high elastic nylon thread/spandex, polyester/spandex, etc. A wide range of woven elastic tapes is made available by woven elastic tapes suppliers in India. These tapes are used for medical and orthopedic purposes, clothing, waistbands, sportswear, and underwear. These elastic tapes show excellent stretchability that remains for a long duration even after multiple washes. These tapes can be availed in a number of color shades and widths at reasonable prices.

Woven elastic tapes are usually weaved using completely automatic looms for assuring utmost precision and excellent performance. They can also be available in customized designs as per the customer's request. These woven elastic tapes assure perfect fitting of garments and are found to be gentle on skin.
Types of woven elastic tapes: -

• Magiba woven elastic tapes: - These elastic tapes are the popular elastic utilized primarily in the apparel, footwear industries, and many general purpose applications as well. These elastic tapes are available in black and white, as well as in a wide range of colors. Elastic tapes with stripes are also available on a custom basis. These tapes are also available is an "extra kick" version made with a heavier rubber and as well as in a limited number of widths that are obtainable in polyester.
• Lightweight (Insert Type) woven elastic tapes: - These tapes come in nylon and polyester and ranges in size from 1/8" to 2-1/2" and the polyester elastic tapes are available from 1/2" to 6" in width. These tapes are found in white and black colors.
• General purpose polyester woven elastics: - These tapes are useful in a variety of applications and are available in a variety of styles that differ in weight and surface appearance.

Features of woven elastic tapes: -

• The woven elastic tapes have high stretchability
• They usually will not get narrow when stretched.
• They are suitable for both machines and hand wash.
• They are highly durable.
• They are known for colorfastness.
• They are available with a seamless finish.
• The tensile strength of these woven elastic tapes is outstanding.
• These elastic tapes have a long service life.
To avail premium quality woven elastic tapes, you have to look out for trustworthy woven elastic tape supplier in India. You can also trust the woven elastic tape suppliers in Surat, famous for providing an exhaustive range of woven elastic tape in the market. They usually bring to use the high-level quality infrastructure and are able to wholesale the exceptional quality of elastic tape to their clients.

With the quality-centric approach, the woven elastic tape suppliers are dedicated to serving the clients in the best viable way. They ensure that the high-grade packaging option must be utilized. They indulged in making appropriate arrangements for the delivery of bulk orders and make sure that the ordered products are duly delivered to the venerated clients.
This entry was posted on December, 02, 2020 at 13 : 31 pm and is filed under Woven elastic tapes. You can follow any responses to this entry through the RSS 2.0 feed. You can leave a response from your own site.