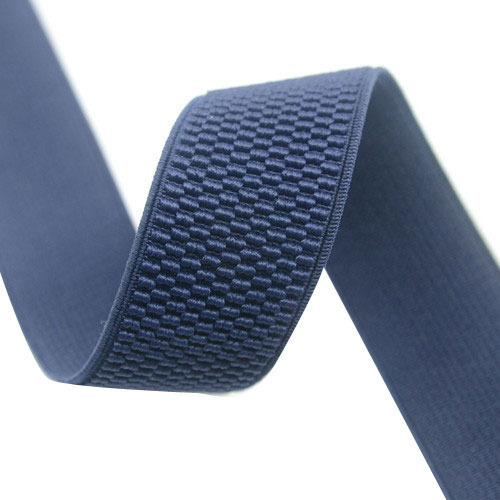 Garments have become a basic need for people. In India, with the constant rise in population, the demand for various types of garments has increased even more. Elastic Tapes are a necessary need for tightly holding these garments when worn by people. They also help in increasing the life period of garments.
Normally these tapes are used for undergarments like panties, baggies, brassieres, briefs children's clothes, etc. They are also used as inside straps for suitcases that help in creating a better grip. They also ensure safe driving when used in car seats.

Types of Elastic Tapes
Due to the increase in demand for different types of readymade garments and undergarments, there is a high need for different types of elastic tapes. Here are some of the types that are easily available in the market.
• Polyester Woven Elastic Tapes: These tapes are made of polyester and generally come with 0.5mm thickness and are 20 to 30mm in width. They can be found to be available in various colors. They normally have a plain pattern and are also of superior quality.
• Polyester Elastic Tapes: These tapes are made of polyester as well. They carry a thickness of 2mm and width of ¼ inch to 4 inches. They come in a variety of colors and have a plain pattern.
• Elastic Tapes for Shoes: These tapes are available in the market in multiple sizes. They are generally made of polyester yarn material and are also used in making garments. They come with different thicknesses like 10 to 20mm, 20 to 30mm and 30 to 40mm and are known for their comfort, perfect strength, good quality, smoothness, and high stretching properties and are prepared using washed techniques.
• Garment Elastic Tapes: These garment tapes are used for making a wide variety of garments and are very comfortable and highly stretchable. They come in multiple sizes and are made of cotton. They carry a thickness of 10 to 20mm and 20to 30 mm. They generally come with plain patterns and are made using handloom and yarn-dyed techniques.
• Woven Tapes: These tapes are made using woven techniques and are found in superior qualities. They are made from rubber thread and polyester yarn materials. They are quite simple in design and have great strength quality. They are widely used in shoes and garment industries. They also come in a wide variety of colors and have very high competitive rates in the garment market.
• Narrow Woven Elastic Tapes: These tapes are made out of narrow woven materials and are generally used in marking purposes. They are also available in various colors and are very skin-friendly. They carry printed as well as plain patterns and are normally 1 to 3 cm in width.
There are many garments and cloth markets all over the world that require regular supplies of various types of tapes for daily use. Surat is a popular city in India where different types and varieties of garments and tapes are made. Elastic Tapes Manufacturers in Surat produce a wide range of tapes every day to meet the Indian market requirements daily.
This entry was posted on September, 12, 2019 at 13 : 04 pm and is filed under Elastic Tapes. You can follow any responses to this entry through the RSS 2.0 feed. You can leave a response from your own site.