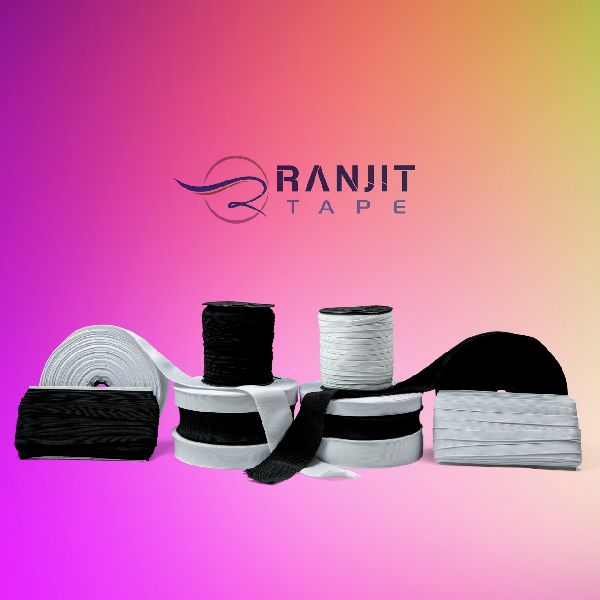 There are many leading manufacturers of woven elastic tapes all over Gujarat who have been producing top quality tapes for years. They help in meeting the ever-increasing demand of the tape without ever compromising on quality. These tapes offer amazing qualities that only helps in increasing its uses in several high-end applications in many industries all over the country.

The woven elastic tape suppliers in Surat offer these tapes in different widths and raw materials according to the demand received. In woven elastic tapes, the elastics are basically created with the help of top quality elastic nylon threads, polyesters, spandex etc. In the garment industry, the fancy tapes are made available in different kinds of colors and width size.

There is a vast range of woven elastic tapes available with the manufacturers that may vary from 4mm to 300 mm and they can be suitable for all types of requirements arising on day to day basis.

Woven elastic tapes are produced for many industries that may include clothing industry, shoe industry, sports industry, waistband industry, medical industry etc. These most common tapes are also called shoe elastic tape, medical and orthopedy elastic tape, sports or underwear elastic tape, waistband tape, and clothing tape.

There are primarily 3 types of woven elastic tapes that can be described below as:

1) Magiba: These tapes can be defined as those tapes used in footwear or apparel industry, and for many other day-to-day applications. They are available in various types of colors. These tapes can be made available in stripes as well. Black and white color have emerged as most popular in this category.

2) Lightweight elastic tapes: These tapes are available in polyester and nylon. They may range in the size of 1/8 to 2-1/2. Meanwhile, the cotton will be used in black, white or some other colours. However, plastic will be available in black and white only.

3) Polyester woven elastics: These tapes are used in several applications where appearance and quality matter a lot. Here you can get various styles of tapes in different weight and appearance. Most of the tapes are stocked in black colour while some are available in white as well.

The woven elastic tape manufacturers in India should consider the following points given below:

1) They should use the latest technology to produce these tapes;
2) The manufacturers should focus on effective packaging as the tape may get damaged during the transit period;
3) They should make these tapes available at cost effective prices

Therefore, we can conclude here that woven tapes are in great demand which will give a strong boost to the Woven Elastic Tape Manufacturers based in Surat and other parts of India.